HG has long discovered that even the most humble of restaurants (excepting the very worst) have something that they do wonderfully. And, that's the way it is in Jacona, HG's New Mexico neighborhood some 15 minutes north of Santa Fe. There's El Parasol for a wonderfully soothing and earthy menudo. Gabriel's for the ultimate mixed-at-the-table guacamole. Sopapilla Factory for (you guessed it) sopapillas ( they also do a giant chicken burrito smothered in green chile and a killer bowl of charro beans). All eateries are located on Highway 84/285.
HG never eats New Mexican food in Santa Fe. Too touristy. Santa Fe is HG's venue for Japanese food: Shohko Cafe for sushi and tempura and Shibumi for Ramen.
On a cross cultural note. Last time HG was in Sopaipilla Factory, HG saw a large gent in a turban, long cloaks, etc, digging into an appetizing and spicy
platter. HG made inquiry. Sikh gent replied: "Tofu carnitas in red chile sauce").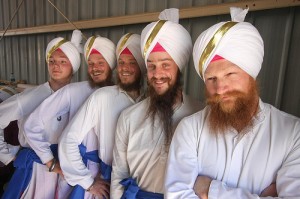 § 3 Responses to Down Home Dining In New Mexico"