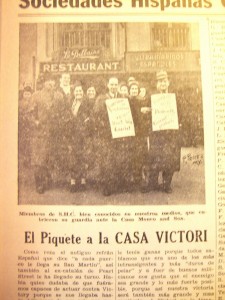 During HG's college days (not a century ago…but close), HG had to choose between two venues for HG's romantic Saturday night dinner-and-movie dates.
There was the inevitable Chinese restaurant which charged 50 to 75 cents for a choice of egg drop or wonton soup; a "combo" platter and a desert of an almond cookie with tea. And, there was the more ambitious, but still very affordable, Spanish restaurant, La Bilbaina, on West 14th Street which was at the heart of the now extinct "Little Spain" neighborhood. La Bilbaina had bullfighting posters, exciting flamenco music on its sound track and candles on its tables. A scene to stir tender emotions. Dinner consisted of a large bowl of spicy bean and kale soup followed by an oversize platter of yellow rice, lots of red beans and hot chorizo. In fact, much of the La Bilbania menu consisted of beans in various forms and lots of garlic. The beverage was a rough and ready sangria. To call the wine plonk would be dignifying it, but it quenched the thirst. Dessert was flan. Total cost of dinner a deux (with tip) hovered around $3.50.
One may question whether a meal chock full of beans was the proper prelude to romance. Gallant HG and his earthy girl friends found a bit of musical accompaniment no impediment to young amour.