As a Bronx youngster, it was obligatory to belong to a SAC (Social Athletic Club). HG's club was the Hurricanes, SAC. Lots of athletics (basketball, softball, touch football) but not many social activities,just a few modest parties. Members of the Hurricanes sported golden satin jackets with the name of the club on the back and the member's nickname (HG's was "Geejay") embroidered on the front. Unlike the ferocious clubs from the East Bronx — The "Fordham Baldies, "The Golden Guineas", etc. — the Hurricanes were athletic and studious. There were three future doctors in the club (one was instrumental in proving a one-a-day-aspirin aspirin routine was a heart attack preventive); There were also three future lawyers, a New York State Supreme Court Judge, a leader in the women's shoe industry, a West Pointer prominent in California defense industries, a dealer in rare books.
As an adult, HG was sponsored by the legendary real estate developer, Samuel J. LeFrak and became a member of Lotos Club. Much enjoyed the historic clubhouse just off Fifth Avenue and the convivial bar and dining room. The Lotos Club was formed in 1870 as a gathering place for men (women were admitted in 1977, more than a hundred years later) in the arts, journalism, theater, etc. The name was derived from the Tennyson poem, "The Lotos Eaters." The club motto: "They came to a land where it was always afternoon." The Lotos Club (unlike most other New York "gentlemen's clubs") had long been color blind. The late Bobby Short was a prominent member as are jazz artist Wynton Marsalis, Former NYC Mayor David Dinkins and other distinguished African-Americans. Member Mark Twain called Lotos "the Ace of Clubs." Present day literary members include Novelist/Journalist Tom Wolfe. Many folks from the theater including Renee Fleming, Angela Lansbury, Mikhail Baryshnikov, Christoper Plummer, Peter O'Toole and Elaine Stritch. Among the musicians are Yo Yo Ma and Isaac Stern. Early historic members included Andrew Carnegie and William Randolph Hearst. Since 1947, the Lotos clubhouse has been located at 6 E. 66th Street (a few steps from Fifth Avenue). It is a magnificent building with rich period details, designed by Richard Howland Hunt as a town dwelling for an oil heiress. HG held many festive office parties in its delightful surroundings. Quit when HG/BSK moved to Colorado. No club life until HG/BSK joined Sam's Club last week. BSK said the Club offered big bargains on summer clothes. Turned out to be true. BSK scored some excellent pants and T-shirts as well as family gifts. HG bought bargain workout shorts. As HG strolled about the mammoth store, food (naturally) was on HG's mind. Purchased a two-pound package of Member's Mark Hardwood Smoked Pulled Pork. Modest price. Good natural flavorings. No chemicals, sugars, etc.. BSK cooked it last night. Flanked it with cheesy Geechie Boy stone ground grits and a chopped salad of spring onions and Kumatoes. The pulled pork was enhanced by splashes of Trader Joe's Carolina Gold barbecue sauce (vinegar and mustard based). Hearty southern meal. Thanks, Sam Walton, for the tasty pulled pork. Thanks, Sam LeFrak, for The Lotos Club.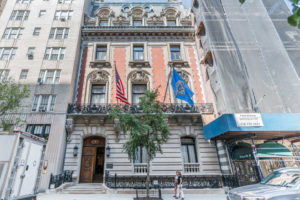 After Colorado:
§ 2 Responses to Thanks, Sam"