The election is a nail biter. Sandy has assaulted New York (wiped out the Rockaway boardwalk among other landmarks). Silver lining is that HG and BSK's Brooklyn, Manhattan and Rhode Island family is safe (though facing some economic damage). Here in New Mexico the days are sunny, bright and clear with temperatures in the 60's. Cools off at night so a blaze in the fireplace is welcome. Fortunate HG lunched with beautiful Sarah N., the multi-talented and adventurous woman who directs the Santa Fe Farmers' Market. Lunch was at Shohko Cafe in Santa Fe. Excellent array of sushi. Highlights were delectable unagi (eel) and remarkable salmon eggs. This was followed by a platter of shrimp and vegetable sushi. Good food in a pretty room. Sarah gave HG a gift — a big bag of red New Mexico chile peppers. It is common in these Southwestern parts to see wreaths of dried red chiles tied together in clusters called ristras. Very colorful. When reconstituted they are the basis for fabulous sauces and moles. HG's gift came from Matt Romero — known in the Farmers' Market as "the chile guy." Matt is very visible during the fall as he roasts green chiles, filling the market with their fragrance. His Romero Farms in Alcalde and Dixon grow many varieties of peppers as well as eggplants, tomatoes, potatoes, etc. All are extraordinary' Check Matt Romero out on Youtube and get his recipe for a great eggplant sandwich on realsimple.com . Discussing his red chile peppers, Romero says: "We come to New Mexico for green chile. We stay because of red." Sarah sent over Romero's red chile sauce recipe. Generous HG shares it with you: Here's what Matt has to say:
MATT ROMERO'S RED CHILE SAUCE (for Frito Pies, Eggs, Etc.)
What you need:
6 dried red chiles, a blender or food processor, 4 or 5 cloves of garlic (diced), salt, 1 1/2 pounds of ground chicken, pork or beef, a little flour for a roux
Boil 5 cups water. Rinse the dried chiles and break open one end and shake the seeds out.Rehydrate the Chile pods in the boiling water for about 15-20 minutes. Put the softened pods into a food processor or blender. Add some fresh water (not the water used for rehydrating the pods, as it will be bitter) and blend until it makes a thick sauce. Depending on how finely you process it, you may want to strain it to get the skins out of the sauce.
For meat eaters: In a cast iron skillet (my fave) brown the meat of your choice. Add your diced garlic in while browning the meat. Drain off the fat. a In a separate pan make a roux using some oil and flour. Add it to the ground meat with some water to make a "gravy." Add the chile sauce. Cook it all together for a bit (30 mins) on very low heat and stirring a lot so the chile won't burn. Add salt, which will bring out the flavor of the chile.
Non meat version:
Put olive oil in the pan. Add a bunch of garlic, but don't brown it, just get it translucent. Make a roux with olive oil and flour. Add water to make it gravy-ish. Add the chile . Cook it for about 30 mins. Salt.
To make a frito pie follow the order of this recipe to keep the chips crispy (important!): First make a layer of pinto or black beans, then Fritos, then add your red chile, then grated cheddar cheese, top it with diced tomatoes, diced onions or scallions and chopped lettuce.
Drink a lot of Margaritas and enjoy!!!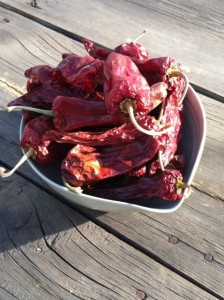 § 2 Responses to Why We Stay…"