The Pojoaque Super Market on Highway 285/84 in New Mexico (15 minutes north of Santa Fe) is an HG favorite, a veritable treasure trove of ingredients needed for authentic Southwestern cuisine. There are at least 100 salsas on the shelves ranging from "super hot" to "mild." "Mild" raises an instant sweat. "Super Hot" can induce cardiac arrest.
There are at least 40 varieties of canned beans and posole. An encyclopedic array of peppers — hot, sweet, fresh, canned, frozen, jarred and dried. Spices galore. A take out counter featuring truly funky menudo, green chili stew and enchiladas.
Customers are a colorful group. Latinos. Native Americans from the nearby San Ildefonso Pueblo and Santa Clara reservations. Sikhs from local ashrams. Artists, politicians, farmers, and of course, Bronx reared elder Jews like HG himself.
HG loves to browse, taking in the regional goods. A big, recent discovery: Candy Krisp Jalapenos from Texas Pepper Works (a Houston outfit). There's a rattlesnake on the jar label and the words: " Nice Bite. Not Too Hot. Not Too Sweet." That's truth in advertising. Perfect accompaniment to any pork dish.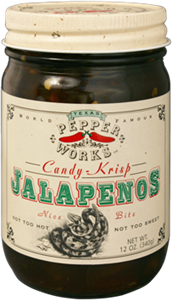 Great on a cracker with some goat cheese or cream cheese. If you have trouble sourcing a jar visit: www.ribafoods.com.