Shout it from the rooftops. Let joy be unconfined and laughter relentless. HG's pal, Stephanie Pierson, has a new book out: The Brisket Book–A Love Story With Recipes. Twelve lively chapters that tell you everything you want to know about delicious, life enhancing brisket. Barbecue. Your Bubbe's brisket. Simple brisket. Complex brisket. How to cook it. What to eat with it. What to drink with it. What to do with leftovers (Tacos, anyone?). There's Cuban brisket, Aquavit brisket, brisket in sweet and sour sauce (HG will pass on that one). The publisher is Andrews McMeel Publishing LLC.
The book has a cautionary note about the noble institution of marriage: "You know what marriage is like at the start–all briskets and blow jobs–then it's downhill from there."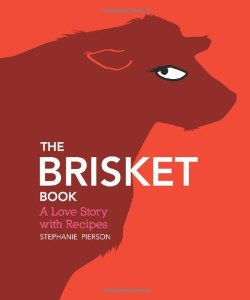 § 3 Responses to Pierson On Brisket"