Yes, it's true. HG, the devoted carnivore, has become a veggie junkie. Dinner last night was HG's garlicky eggplant caviar, a big platter of sliced radishes and baby white turnips. Ripe, sliced tomatoes with buffala mozzarella (okay, cheese isn't a vegetable) and lots of basil and very good Sicilian olive oil. Tonight, HG and BSK will have a modest reprise of the turnip, eggplant and tomato appetizers. Then they'll settle in with penne rigate mixed with a load of cauliflower sauteed in garlic infused olive oil. Tomorrow night plans call for kasha (buckwheat groats) mixed with farfalle (butterfly) pasta. The dish (known as kasha varnishkes) will be topped with fried onions and mushrooms. Greek yogurt on the side. Next night, BSK is contemplating haricots vert and fingerling potatoes in an Indian inspired cumin and mustard seed curry.
Blame the vegetable madness on the superb produce available at the Santa Fe Farmers Market. Star of the market is HG's organic farmer neighbor Gary (known in the market as Mister G.). You've got to get to his stand early to stock up on his incomparable lettuces, escarole, fingerling potatoes, shisito peppers, radishes, turnips, arugula, parsley and many other good things. The knowing gourmets of the Land of Enchantment snap up Gary's produce quickly.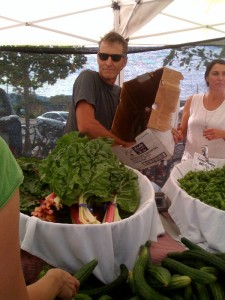 § 2 Responses to HG – Veggie Junkie."