HG was served a dish at "O" Eating House that surpassed, in finesse, creativity and restraint, the best Paris has to offer. (HG has posted frequently about "O" and its chef, the gifted Steven Lemon. "O" is located on Highway 84/285, some 15 minutes drive north of Santa Fe). The delectable dish HG is referring to was composed of six squash blossoms, plated beautifully on a long, slim oval plate. The squash blossoms were stuffed with a mixture of ricotta, sweet corn, pine nuts and tarragon. They were then tempura fried to an ethereal lightness. The blossoms were separated by streaks of pesto and flanked by stewed fresh cherries. Crisp, unctuous, herbaceous, salty, sweet.
A dish that strummed every taste note.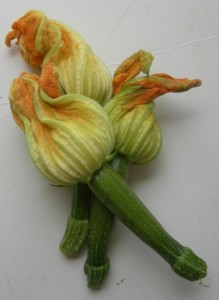 § 2 Responses to Who Needs Paris When You've Got Pojoaque?"