Rockaway was the proletarian barrier beach (between the Atlantic Ocean and Jamaica Bay) where HG and millions of sweltering New Yorkers escaped the summer blaze in years gone by. During the 70s, 80s and 90s, drug violence and the proximity to some fairly dangerous public housing lessened its attractiveness. But, Rockaway has re-surfaced with a sudden cache of cool. It started with a movement of urban surfers, who did not care that Rockaway's waves were not California size, they were NYC waves and that was cool enough. They carried their surf boards on the subway and soon Williamsburg hipsters and lots of other cool folks from Brooklyn and Manhattan wanted to see what was going on. (Rockaway is reached by a comparatively short subway ride).
And, where there are hipsters, there's hip food and drink. The New York Times has been reporting on the opening of many good, casual ethnic dining spots along the Rockaway Boardwalk.
HG suggests it may be time to revive that great beach classic –The Takee Cup. HG wistfully recalled the tasty Takee Cup in a post a few months ago. Bring it back for the new cool generation.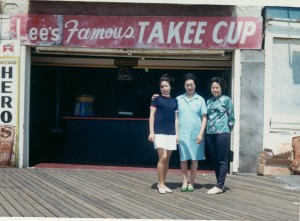 § 2 Responses to Rockaway"