Thank God for Flushing. In that noble Queens neighborhood, cheap rents in the warrens of underground food courts and back alleys allow purveyors of obscure, Chinese regional cuisine the chance to thrive. And if they do in fact thrive the next step is to take their goods to Manhattan's Chinatown.
Thus, Flushing's Henan Feng Wei — lauded by heroic restaurant critic Robert Sietsema — recently opened an outpost at 68 Forsyth St named He Nan Flavor. Again, thank you Flushing!
Henan is a northwest province in China and He Nan Flavor celebrates the food found in the night markets of Zhengzhou, the capital city. Forget about typical Cantonese fare, this is a bold stuff that reflects Henan's Middle Eastern and Sichuan influences.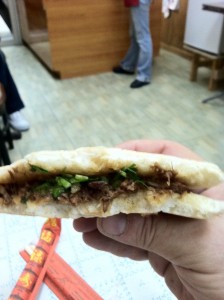 The first dish I tried was the "Pancake with Pork" which just that — a crispy, griddled hot-cake dotted with sesame seeds and stuffed with anise tinged minced pork and cilantro. Not a bad treat for $2!
Next up was a dish called "Spicy Chicken Hui Mei" which was just remarkable. A huge bowl filled with hand pulled, chewy, wide noodles covered with stewed chicken. These noodles come lathered in a sauce of red chili oil, Sichuan peppercorns, tiger lily bulbs and cumin seeds. It was a taste explosion. While the chili oil added a satisfying burn, the Sichuan peppercorns have a narcotic, numbing effect and great flavor — but it is the earthiness of the cumin seeds layered against those pleasantly chewy noodles and stewed chicken that makes the dish something to dream about on a cold, winter day.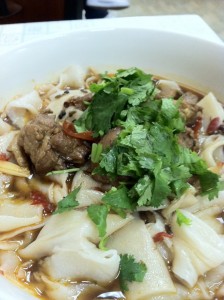 On further visits, I tried the Lamb with Lo Mein Soup — which was those same amazing noodles in a milky broth redolent of lamb and an under tone of anise. Powerfully addictive. I also tried their boiled dumplings which come 15 to an order!!!! No dish here tops out over $6 and it is a generally clean and cheerful place with attentive owners who have a real pride and seem genuinely happy that you have decided to dine with them. On the wall there is a photo of a dish called "Big Tray of Chicken" — I will be back!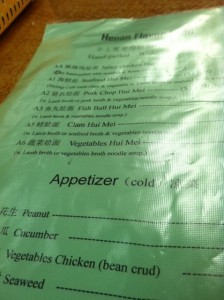 § 2 Responses to Hey Now! He Nan Food! – An SJ Post"