A life enhancing, talented and fun loving quartet has been visiting HG and BSK. Here's the cast: Donald K. and Bruce M., HG's and BSK's former business colleagues. Donald K's wife, Susan, a former investment banker and Bruce M.'s companion, Theresa T., former senior executive at Ralph Lauren and Martha Stewart. These are folks who know and enjoy food and wine. So, what was on the table? Friday night there was a platter of Middle Eastern appetizers and then a Mariscada (Spanish seafood stew) of mussels, shrimp, scallops, much garlic and parsley cooked in fish stock, white wine and the juice from canned asparagus — a surprising secret ingredient gleaned from New York's El Charro. Washed it down with glasses of Rose, Pinot Grigio and Barbera.
Light salad lunch on Saturday at Santa Fe's Santacafe. Dinner was a feast at the much posted about "O" — Eating House. Appetizers of fried zucchini and home-made mozzarella with the first stewed cherries of the season; chorizo and roasted garlic; chunks of unusually spiced corn on the cob. Mini portions of strozzapreti (a name which translates to priest stranglers) in a beef cheeks sauce. Main dishes of duck confit and grilled quail accompanied by a sweet corn risotto. Dessert: bread pudding and creme brulee. Much Champagne, San Giovese, Malbec and Chianti flowed (possibly too much flowed in HG's direction).
Brunch the next day on the sunny terrace featured BSK's egg and cheese casserole. Farewell dinner tonight at Gabriel's. Margaritas. Guacamole (best in New Mexico). Fajitas. Charro beans. Sopapillas. Sangria. Flan. Ole!!! And then, sadly, adios.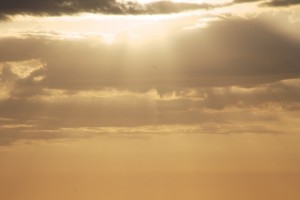 Photo Courtesy of Steven Nereo