HG and BSK lunched today at Shibumi Ramenya in downtown Santa Fe (Johnson and Chapelle, to be precise). Perfection in every detail — decor (Japanese rustic); service (suave); food (sophisticated but earthy). There's spicy pork gyoza, some creative Japanese vegetable tapas (burdock root, black seaweed, sesame spinach and bunapi mushroom). And, there's the little bistro's raison d'etre: Ramen with four distinct broth styles: Tonkotsu ramen with roasted korobuta pork; Torigara with roasted chicken; Kaisen with shrimp and Yasai with vegetables. HG and BSK had the Tonkotsu Ramen and it had flavors in depth — a powerful and multi-layered broth, perfect noodles (excelling in both spring and smooth mouth feel) and roasted pork slices that seemed a marriage between belly and loin. The cutlery, spoons with long wooden handles and a capacious bowl married aesthetics with function. Prices are moderate. The cash policy (no credit cards) helps keep it that way. The proprietor is Eric Stapelman. He also owns Trattoria Nostrani, an adjacent Italian restaurant. Nostrani's menu is superb and HG/BSK will be dining there soon and posting a report.
Stapelman has the reputation of not tolerating disrespect for his food, personnel, or restaurant. And, he won't have perfumed folk. Good. HG's kind of guy. All of my favorite restaurant men (Henri Soule at Pavillon in New York or Sidney Kaye at Russian Tea Room, also in New York, behaved that way). Viva Stapelman, Don't change.
SJ reminded me that Shibumi by Trevanian (a one name author) is the title of one of our favorite good/bad novels ("Godfather" tops that category). The protagonist of "Shibumi" is a assassin/stud named Nicolai Hel (he can kill in a hundred ways including a method using the edge of a playing card). So powerful is his sexual magnetism that he and his beautiful girl friend achieve simultaneous orgasm simply by looking at each other in an intense manner. Commented SJ: "Wow. What would happen if they actually did it?"
Enjoy more conventional (but intense) pleasures at Stapelman's "Shibumi."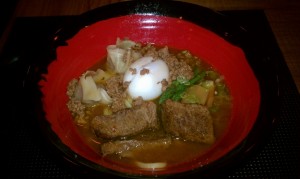 § 4 Responses to Shibumi. Ramen Delight. Highly Unusual Orgasms, Etc."