Two cliches that should be buried: You can eat well in London if you only eat breakfast and you can eat well in Santa Fe if you only eat burritos. Okay, English breakfasts are great if you hold off on the tinned mushrooms and beans and burritos smothered in green chili are a blessing. But, London is now one of the world's great food cities, on a par with New York (better than New York for Indian food, not as good as New York for Chinese dining). And, Santa Fe, though resolutely New Mexican, offers the eater a wide variety of exceptional international food treats.
Jambo Cafe, located in a strip mall on busy Cerrillos Road, is an HG favorite. Chef-owner Ahmed Obo offers a distinctive Afro-Caribbean cuisine. On a chilly afternoon this week, HG warmed body and soul with Jambo's "Island Spice Coconut Peanut Stew." Flanked by a plate of fluffy jasmine rice, this was big bowl of layered flavors. There was plenty of heat (Jalapeno or Scotch Bonnet peppers?) gentled by coconut milk and chicken stock. The peanuts gave the stew a Szechuan Tan-Tan noodle zing. The chunks of chicken in the stew had a juicy, free range taste. There were some halved cherry tomatoes in the stew and it was topped with grilled scallions. A super generous portion designed for all day nourishment. There are other great stews at Jambo — goat stew reminiscent of Jamaica, East African lentil stew, Moroccan lamb stew. There's jerk chicken, plantains, lamb burgers, hummus — cooking that hops and skips from the Maghreb to Eastern and Southern Africa and over the seas to Caribbean islands. Everything is assertively spiced and served by charming wait persons in a very busy, casual room.
Other Santa Fe destinations for the discerning internationalist: Eric Stapelman's Shibumi Ramen Ya for outstanding ramen and small plate izakaya treats; plus his adjacent restaurant, Trattoria Nostrani for sophisticated and creative Italian cuisine. Another good Italian bet is Steve Lemon's "O" Eating House, located a short drive north of town (HG has written about it often). There's Shohko Cafe for wonderful sushi and tempura, La Boca for Spanish tapas, New York Deli for bagels and bialys and Geronimo, for classic cuisine in the elegant European style. Raaga is the spot for Indian food (whole curry leaves enliven a number of dishes). Nile Cafe has good middle eastern fare and Pupuseria y Restaurante Salvadoreno fills its customers up with hearty pupusas (like tamales but more robust).
Lots of good international dining. But, don't skip burritos and green chili.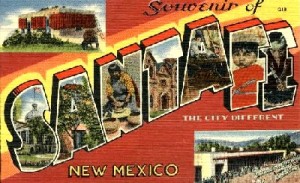 and green chili.