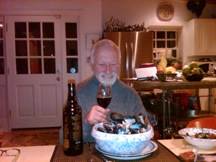 Last night. Pinon logs blazing in my Santa Fe fireplace. Taking last sips of my second frozen Russian vodka. Sharon (my wife of 47 years) calls me to the stove and opens the cataplan (this is a hinged, copper plated pan with cover). In the cataplan is her fruits de mer stew. She has sauteed a melange of sweet onions, garlic, flat leaf parsley, diced pancetta in olive oil. Added a few pounds of Prince Edward Island mussels (the world's best mussels cultivated a mile from our summer home) and some potatoes about the size of your little finger. She's added fish stock, white wine, some chili pepper flakes. At the last minute, in will go squid and little neck clams (she believes that these elements must be cooked in a flash before they turn into chewing gum of the sea). Then a dash of thyme from her herb garden. Her magic is knowing just when to open the cataplan when everything has steamed into sublimity.
I have cut up some sourdough bread I bought at the farmer's market and filled our glasses with Beaujoloais Nouveau (it's good this year). My creative culinary tasks finished I rush with plate to the opened cataplan. First taste. Sharon asks:"How is it?" "Best thing I ever tasted," say I.
Now. Flash backward to June 1963. Month before our wedding. Place: Fire Island,New York. Hot, late afternoon. Just come from the beach. Still wet from the sea. Sharon in a blue, gingham mini-bikini. Sharon in a bikini is a sight to make strong men weak or induce sudden paralysis. Sharon presents me with a plate of grilled Hebrew National hot dogs accompanied by Heinz baked beans. She's mixed fried onions and ketchup in the beans. Cold beer in hand I take first taste.
"How is it?," says Sharon. "Best thing I ever tasted," say I….Right, Mr. Romantic.
So, how does she look in a bikini 47 years later? Better.
§ 2 Responses to Love, Lust, Food"