As anticipated, L'Express Restaurant turned out to be a piece of Paris lodged on Montreal's Rue St. Denis. Pleasant welcome. Friendly, professional service that exemplifies restaurant management expertise. The interior, in Paris brasserie style, features plenty of mirrors, a long and lively bar, dark woods and bright — but flattering — lighting. Lots of attractive, animated people having a very good time. The HG/BSK family hit all the food highs: Octopus and lentil salad. Soupe de poisson. Duck foie gras. Asparagus vinaigrette. Roasted marrow bones with wilted lettuce, sea salt and toast. Sea bass with exemplary haricots vert. Beef tartare (with mountains of crisp French fries). Excellent bread. A big crock of cornichons and strong mustard on the table. Two bottles of red — Languedoc andBeaujolais. Desserts included (all giant size): Ile flottante, creme brulee, vanilla ice cream, baba au rhum (exuberant amounts of rum and whipped cream). A big, happy, indulgent feast.
After dinner, SJ stopped at Fairmount Bagels to bring back a sack for friends. HG tried one (with butter) with HG's morning coffee. Not a New York bagel. A different breed. Softer. Sweeter (the Fairmount bagels are boiled in honey water before baking in wood burning ovens). Okay, but not a culinary must for HG. So, HG and BSK leave this morning for Prince Edward Island. HG/BSK leave without tasting the Montreal/Quebec obsession—Poutine (thick brown gravy and cheese curds poured over French fries). HG/BSK share an aversion to culinary perversion.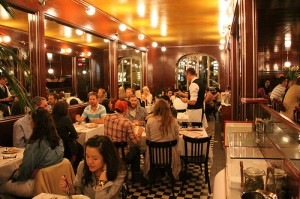 § 2 Responses to A Piece of Paris in Montreal"