The last remnants of the Cedar Tavern (always referred to as the Cedar Bar), 82 University Place in Manhattan's Greenwich Village, are being demolished to make way for a waxing salon. Nostalgia can can cloud vision. But, not Lee Siegel's vision. The writer has a very balanced account of Cedar Bar in a New York Times Op-Ed piece and comes to some surprising conclusions. Permit HG to review the Cedar Bar history. In the 1950's and early 1960's it was the hangout of the hard drinking, rambunctious New York school of abstract expressionists and other painters who became modernist icons — de Kooning, Rivers, Pollock, Kline, Guston, Motherwell, etc. Their presence attracted writers, film makers, poets, musicians and a motley crew of bohemians. It was a macho crew so there were plenty fisticuffs and alcohol fueled rage (and hilarity). Needless to say, misogynistic and homophobic language and behavior flowed free. Siegel points out that women were always treated badly. He quotes Lee Krasner, Jackson Pollock's wife and an extraordinary painter in her own right: "I loathed Cedar Bar. Women were treated like cattle." Gays were insulted and made uncomfortable. One saving grace of the Cedar was it was very inter-racial. It was a bar where HG always felt comfortable drinking with his African-American girl friends. (Yes, women were treated shabbily. But, not African-American women. The Cedar's ferocious leftists saw to that.)
HG was a man of his time. HG loved the Cedar Bar and shared most of the nasty attitudes of its habitues. When HG lived in the Gramercy Park neighborhood (more than 50 years ago) HG had a Saturday routine. Little daughter Victoria (now the distinguished restaurateur — Five Points, Cookshop, Hundred Acres) was placed in her stroller and the duo was off on a stroll through 23rd Street (great bookshops), Gramercy Park (HG had a key for a short period), Irving Place (a grilled cheese sandwich for little Vicki at Pete's Tavern), Washington Square Park and, as a final destination before returning home, Cedar Bar. Vicki was perched on the bar where she munched pretzels and peanuts and was admired by all for her remarkable blonde cuteness. As for HG, there were numerous martinis while HG participated in vigorous discussion. A very boozy and joyful afternoon indeed.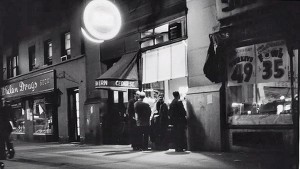 § 4 Responses to The Cedar Bar – The Good and The Bad."