It all started with a little taco stand in Espanola, NM, started by two Atencio brothers in 1958. Sheltered by an umbrella provided by their father, Luis Atencio, the two peddled their mother's home-cooked tacos and tamales to rapidly growing audience. Business flourished and, in time, that taco stand took over the family plumbing business and expanded into the full scale restaurant, El Paragua, and six casual dining EL Parasol eateries in New Mexico (franchised to various generations of the Atencio family. All provide great, down home Northern New Mexican food (as HG has often noted, HG is addicted to El Parasol's green chile menudo and posole).
HG and BSK dined at El Paragua last night with visiting Mike Rock and Trish Layton. Chilly night and the restaurant with its dark wooden furniture, Hispanic artifacts, photos and newspaper clippings exuded warmth and the aromas of good cooking. The group was met by smiling Jose Atencio, the proprietor and host. First, some splendid frozen margaritas in big, salt rimmed glasses. Then, Jose presented bowls of hot broth filled with pork, garbanzos, bits of red chile and ripe avocado slices as a garnish. Chill was vanquished. Dinner was menudo, carne adovado, enchiladas, charro beans, guacamole, shrimp in garlic sauce. Plus warm sopapillas with honey and elderberry jelly. Flan for dessert. Generous Jose Atencio climaxed the meal with brandy snifters of a Mexican liqueur not imported to the United States (HG believes it is called "Membrillo"). Fabulous. Jose took us on a tour of the restaurant. Much history. A favorite restaurant of the actor Anthony Quinn. Dennis Hopper, when he lived in Taos, NM, would come to El Paragua to drink and play cards with Jose's father, Luis Atencio. Robert Redford, Dustin Hoffman and many others have dined there. That's El Paragua — a nice blend of food and history warmed by the gracious service and happy ambience created by Jose Atencio.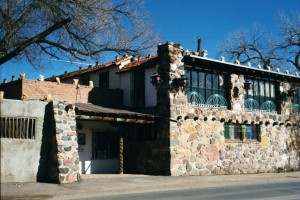 § 2 Responses to El Paragua"