Anyone remember these coffee and fast food counter restaurants that once flourished in New York? There were about 80 locations before the chain closed in the 1970s. The coffee brand still flourishes and is sold in supermarkets everywhere. At Chock Full you got a very good cream cheese sandwich on nutted date bread (a favorite of female office workers), whole wheat doughnuts (best doughnut ever, in HG's opinion), good frankfurters and orange drink. Splendid coffee, of course. Very, very cheap. Swift service by unsmiling, sullen, very angry African-American women. William Black, who owned the chain, tried to make morale better by hiring baseball great Jackie Robinson as Director of Personnel in 1957. Didn't make any difference. It was still Service-With-A-Sneer. All food at Chock Full was handled with tongs (for alleged hygienic benefits) and advertised "Food Untouched By Human Hands." The chain got its unusual name from Black's retail start: a little shelled nut store he opened in 1926. It grew to a chain of 18. Black, a smart (and eccentric) guy, met the challenge of the Great Depression by converting the nut shops to lunch counters in 1931. The signature cream cheese sandwich and a cup of coffee was five cents. Big success. Black married a cabaret singer named Page Morton. For many decades New York radio and TV commercials featured the rather mature, slightly off-key and quite wavery-voiced Ms. Morton singing the Chock Full O' Nuts coffee jingle: "Chock Full O' Nuts — That Heavenly coffee." The persistence of this ad and her suspect talent made it obvious that Black really loved his wife.
After many corporate shifts and buy outs, Chock Full (now owned by an Italian coffee giant), decided, in 2010, to open a Chock Full O' Nuts restaurant, serving some of the old favorites, on E. 23 Street in the Flatiron District. Very extensive menu. Very slow service. A mixed reception from diners. The cream cheese sandwich costs $4.95.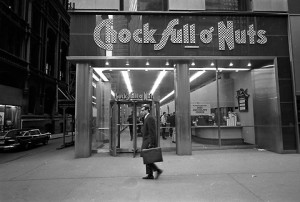 § 3 Responses to Chock Full O' Nuts"