Rosenhain's. Fanciest restaurant in The Bronx. Flourished in the 30's-40's. Charles Lindbergh met there with both the owner (Max Rosenhain) and ransom intermediaries during his son's kidnapping.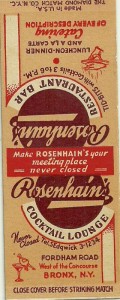 Lido-Riviera. Fordham University football team celebrated there after they beat Missouri in the 1942 Sugar Bowl.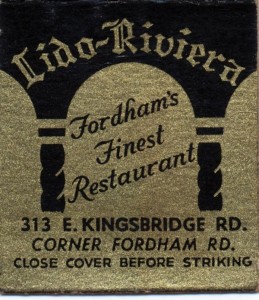 Jackson's Steak House. The late Gil Scott-Heron — the great poet, jazz musician and inconic influence on the entire genre of music known as hip hop — worked there when he was a Bronx teenager.
Bordewick's. Food and dancing. Hillman's. Hearty, German-influenced food.
Jimmy's Bronx Cafe — A relative latecomer to the game made Fordham Road sparkle for a number of years with great Puerto Rican Carribean-Creole Food.
All gone. All flourished on Fordham Road, the lively Bronx thoroughfare that runs east-west between Major Deegan Expressway and Bronx Park. Lots to see on Fordham Road. The Fordham campus on Rose Hill. The super-busy shopping district. The 11-building Fordham Hill co-op high-rise apartment complex overlooking the Harlem River. It's known as "The Oasis In The Bronx."
Yes, there are plenty of great restaurants left in the Bronx and even close by Fordham Road itself, but great food on the Road? All vanished. All gone.
§ 4 Responses to Fordham Road Greats"