SJ here. I've ridden with the Hell's Angels. Boring. Tried rumbling with street gangs. Over hyped! Done Drive-bys with posses. Nothing to write home about. But for the last month, I have been part of the Dim Sum Warriors. A gang of hepped up dumpling fiends out for kicks and bragging rights for nailing the most awesome Har Gow in NYC.
Let's break down the members…Myself, a.k.a. Johnny Choppers; Jamie S. a.k.a. Cheeseburger; Michael L. a.k.a. Big Mike and Maya L. a.k.a. Le Pew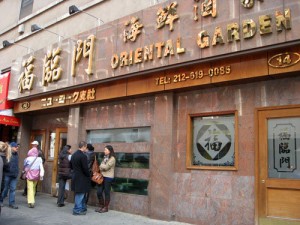 We started our Dim Sum rampage last month at Oriental Garden in Manhattan's Chinatown. Overall, the place rated high. Small room. Vast selection of Dim Sum. A stand out version of Steamed Pork Spare Ribs and a great steamed pork bun. Shrimp based dumplings and rolls suffered a touch from over steaming but, overall, things were good, but not overwhelming.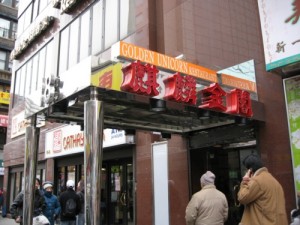 The next week we strapped on our colors on and rolled on through to the Manhattan classic, Golden Unicorn. The Unicorn is a classic of the New School Hong Kong Dim Sum Palace — it is huge (2 floors), wildly gaudy and absolutely packed. Food-wise, it is a better bet than Oriental Garden — flavors were a bit cleaner and overall quality was a bit higher. Still…No yelling from the roof tops.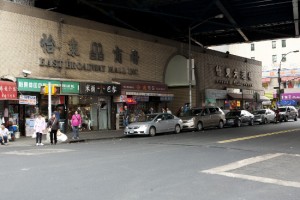 The next week disaster hit. We went to 88 Palace which, for a while, was being hailed as having the best Dim Sum in New York. Well, those days are sadly past and what comes out of the kitchen can barely be called food. As Cheeseburger put it — "Everything tastes like it came out of a dumpster." And not only was the food bad, but the service was rude and the whole place gave off a vibe as if they owed some major cash to some Chinese gangsters and they were just letting the whole restaurant fall apart. Terrible in the extreme. In fact we could not finish the Dim Sum that we had ordered and were still hungry so ended the meal by going outside and getting lamb burgers from X'ian Famous Foods. Avoid 88 Palace!
The next week, we decided to head to Flushing on the advice of a whispered rumour that the chef at Grand Restaurant was doing some amazing things with Dim Sum. Well, Grand Restaurant is certainly grand — in fact in takes up the entire top floor of the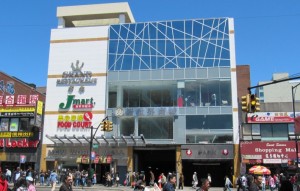 New World Mall (which has one of the world's great food courts nestling in the basement) and is swathed in an over-the-top decorating motif that shimmies from 1980s Miami Vice style Greek Revival to Versailles style opulence to just plain nutty. How many rooms does this place have? No idea. There's banquet halls, aquarium rooms, karoke centers and probably some tanning salons as well. And PACKED!!! Packed with Chinese families happy beyond belief eating an immense amount of good looking things. After the requisite 30 minute wait, we were led to a huge table in a room off the main dining room. I got very nervous that we would be ignored so I grabbed a manager and told him how hungry we were and asked him to make sure that the carts sped our way. Man was on point and after referring to me as "Mr. Hungry" (Mr. Hungry Jr., I should have said!) directed carts to us like a general at D Day. Soon our table was filled with some of the most flavorful, freshest, hottest, interesting and most high quality Dim Sum I have ever tried. They serve over 100 different Dim Sum items but let me list a bunch that we had: Roast Pork Turnover, Fried Watercress Dumpling, Crystal Shrimp Dumpling a.k.a. Har Gow, Salt & Pepper Large Shrimps, Sausage & Taro Dumplings, Congee With Vegetable and Pork, Beef Ball With Fresh Bamboo Shoots, Steamed Pork Spare Ribs with Pumpkin, Shrimp Shu Mai, Fried Shrimp Roll, Fried Stuffed Tofu, Sticky Rice with Mixed Meat, Fish Ball In Curry Sauce, Shark Fin Dumpling in Soup, Clams with Black Bean Sauce and Steamed Pork Bun. WOW! As mentioned, the food was of the highest quality — the Har Gow were by far the best I have ever had, the Sticky Rice (which I normally dismiss) was heavenly, the Beef Balls were rich with flavor but still light, the Steamed Pork Spare Ribs were stunning…everything really was just great and we barely touched the surface of what they have. True, the service was a bit off — BOWLS please!!! — and it was tough to get some Chili Sauce or extra soy sauce, but the gang agreed, hands down, that a winner had been found. A winner that could mock our other experiences.
True, Grand Restaurant may well be the crown jewel, but as Dim Sum warriors, we do no rest on our laurels. Other names have been mentioned, other experiences have beckoned and back on the road we shall be until that last Char Siu Bao is ripped out of our cold, lifeless hands.