Nice article in the current Bon Appetit on La Grenouille, last of the Old Guard of Manhattan East Side French restaurants (Le Pavillon, La Cote Basque, Lutece, La Caravelle: All gone along with their white tablecloths, deft waiters and distinguished maitres d's). La Grenouille isn't giving the food away: The three course prix fixe is $98. After wine, tax, service (and some supplements) dinner for two can easily escalate to $500. HG gathers that some tax loophole guys and their much younger lady escorts eat there four or five times a week. To the barricades, citizens!!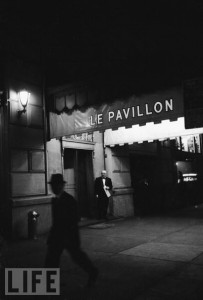 In years past, HG ate at Pavillon once a month (all HG could afford). Food was superb (not over elaborate). There some affordable bottles of wine. Henri Soule ran the room with imperious snap. It was like dining with Napoleon.
For the most part, HG's French venues during his younger years were the rough and ready bistros on Tenth and Eleventh Avenues. They catered to the crews of the SS Ile De France and other French ocean liners. They were also popular with the dining staffs of the English and Dutch liners. For about three bucks you got an appetizer (celeriac remoulade, mushrooms a la Grecque, leeks vinaigrette, pickled herring); main dish (various vinous and garlicky meat stews, matelote of stewed eel, garlic sausage with white beans, hache parmentier); dessert (rice pudding or creme caramel). Plus a pitcher of house red wine and plenty of not so bad bread. If feeling flush, HG added a cheese course of Camembert and Roquefort. At the end of the meal, HG and his current lady friend puffed Gitanes and felt like compatriots of Malraux, Camus and the Free French General LeClerc.