HG's brilliant, cherubic, handsome grandson, HS, presented HG with a gift: An 80 gram package of Hawkins Cheezies, the Canadian answer to Cheetos.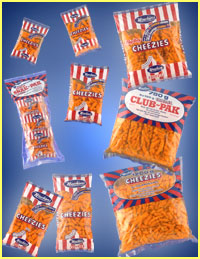 HS, with wisdom beyond his five years, knows HG's weakness. As mentioned in an earlier post, HG loves Cheetos. Could these northern Cheezies with their proclamation of "Vrai Fromage Cheddar" challenge the Cheeto as HG's favorite guilty pleasure? Well. That's what taste tests are made for. HG sampled ten of the little orange devils. Wow! Crispy, salty with the bite of real aged cheddar — similar to a fancy cheese straw, but better. Hands down triumph for our friendly neighbors to the North. Thanks Grandson HS!
And with that salty, crispness lingering on his palate HG recalls another guilty love — the Frito. And not just a Frito, but that ultimate triumph of New Mexican proletarian cooking: The Frito Pie. Oh, yes. The Frito Pie is constructed of chopped meat on a bed of Fritos flavored with red chile sauce (no, not that stuff in a bottle but a fiery, long simmered sauce made from Hatch chiles.). It is topped with grated American cheese, chopped onions and salsa. As the saying goes: Don't knock it if you haven't tried it.
Cheezies and the Frito are not exactly health foods. Much salt. Enormous amounts of calories. More cholesterol than you can imagine. But what would a guilty pleasure be if it did not actually make one guilty? So, do HG a favor and don't tell his Doc.