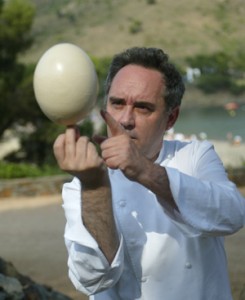 Ferran Adria, the owner/chef of El Bulli in Spain, is the most influential chef of his generation. He and his brother have single handedly reinvented the art of cooking and plating food by fusing the methods of science and the aesthetics of post-modern art with traditional culinary strategies.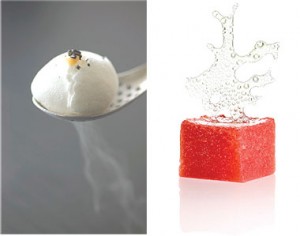 Simply put, Adria's kitchens are more like laboratories where he experiments with deconstructing food into bubbles, foams, gossamer strands of taste, etc.. His "cook-books" are records of those experiments and are so lushly illustrated and painfully beautiful that they call out for placement on a coffee table far more than a spot in the kitchen. He has been called the father of "molecular gastronomy." Food critics, other chefs and big time gourmets have raved and genuflected to his name.
HG has had no desire to visit El Bulli (thankfully, since it is astronomically expensive). HG's tastes are simple, rustic, ethnic. HG may be avant garde in his literary and political thinking, but at the table HG is a conservative (possibly a reactionary). In case you missed it, Mark Bittman did an article in the Sunday NY Times about Adria's simple down home cooking for his restaurant staff.
One recipe, in particular, struck a chord with HG–Bread With Chocolate and Olive OIl. Here it is: Toast 6 slices of country bread in a 325 degree oven. Toast on both sides (it will take about 6 to 7 minutes). Grate 6 ounces of bittersweet chocolate (preferably 60% cocoa). Cover the toasts with the chocolate. Drizzle the with 1/4 cup olive. Sprinkle with coarse salt.
Now this HG approves of. Calls for a bottle of robust red, no?