Henri Soule's Le Pavillon on 57th and Park in New York was the best restaurant in the world and HG has never seen it surpassed. The combination of Soule's imperious attention to every detail, the great (and relatively simple) food, the comforting lighting, the glamorous crowd, the gentle and efficient service—-all created a joyous experience.
Some memorable dishes: Fillets of smoked eel topped with whipped cream infused with freshly grated horseradish. Duck with olives. Lump crab meat gratin. Souffle potatoes. Steak au poivre. Sweetbreads in puff pastry. Spring asparagus with Hollandaise. A simple grilled ribsteak with a cornucopia of wild mushrooms. Poule a Pot (which HG shared at lunch with labor mediator Theodore Kheel). Marrons au Mont Blanc (a mini mountain of pureed candied chestnuts topped with sweet, whipped cream).
Must stop. HG has tears in his eyes.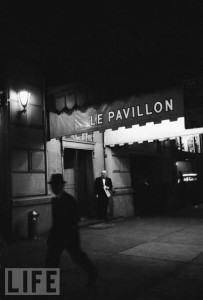 § 2 Responses to Memories of Le Pavillon"