The best American food in New York used to be served by an elegant Greek gentleman, Leon Lianides at his Coach House Restaurant at 110 Waverly Place in Greenwich Village. The restaurant closed in 1993 (the site is now occupied by Mario Batali's Babbo, an excellent restaurant that introduced a new type of Italian cuisine).
Upon being seated at Coach House, diners were served warm corn sticks. Celestial cornbread. Perfect accompaniment to the black bean soup (which was enriched by a hint of Madeira). There were wonderful crab cakes. Just juicy hunks of the best Chesapeake lump crab meat held together by the merest bit of bread crumbs and seasoning. Lamb ruled at Coach House in the form of triple thick lamb chops or racks of lamb. Greedy HG always had dessert: Pecan pie (not too sweet) that had the right proportion of whole pecans and filling.
Mr. Lianides did not forsake his Greek heritage. He sometimes offered chosen customers (like HG) a taste of Tarama Salata, the salty Greek fish spread to accompany their icy pre-dinner Martini (click here for a link to Leon's recipe for that Tarama Salata). He also gave HG an excellent cooking tip: Cut away every scrap of fat from lamb chops or lamb racks before roasting or broiling. Lamb fat does not enhance flavor. HG agrees…(SJ does not!)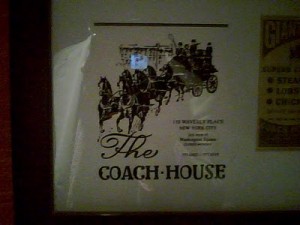 § 4 Responses to Gone But Not Forgotten Restaurants: Coach House"