While New York is still chock full of great seafood restaurant there are four (now shuttered) that HG still pines for.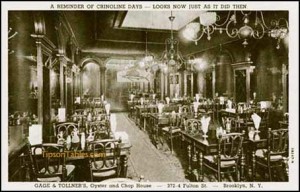 1. Gage and Tollner in downtown Brooklyn. One of the oldest restaurants in New York City, this was a hangout for aristocratic old families of Brooklyn Heights. Entirely illuminated by gas lighting, the untouched turn of the century decor was just wonderful. Dignified, African-American waiters. The sleeves of their jackets had stripes denoting years of service. Average was 25 years. Best dishes: Sauteed clam bellies. Shad and shad roe (in season). Clams and oysters on the half shell. There was also a meat dish fancied by HG: A big, rare (Juicy and gamy) mutton chop accompanied by corn fritters.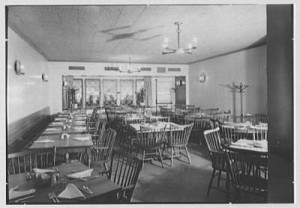 2. Gloucester House in the East 50's. Chaste New England decor. Very expensive. Clientele: Rich Park Avenue types and publishing biggies. HG often saw Helen Gurley Brown (One time Editor of Cosmopolitan Magazine, author of Sex and the Single Girl and longtime advocate of sexual liberation) and her film producer husband David Brown ("Jaws", "The Sting." etc.). Best Dishes: Broiled lobster. Lobster Newburg. Potatoes au gratin. Fried onion rings. Swordfish.
3. Seafood of the Aegean in the East 50's. Decor: Stylish, yet Greek (hard to imagine, well…just try!). Clientele: Madison Avenue advertising executives. Best dishes: a lemony Avoglemono soup. Shrimp Santorini — Jumbo shrimp with grilled whole tomatoes, tomato sauce and sharp feta cheese — served bubbling hot.
4. Sweets located on the East River waterfront near Wall Street. Decor: Very austere, no frills. Crusty, bad tempered old waiters. Clientele: Wall Streeters and the coffee, tea and cocoa importers that were HQ'd on Water Street. Best dishes: The very best and freshest simply broiled and sauteed fish; clams, oysters, lobsters and crabs—all purchased that morning from the nearby Fulton Street Fish Market.
Anchors Aweigh, Indeed.