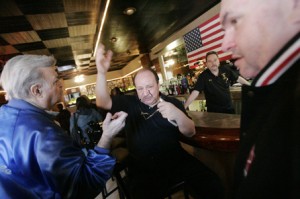 An eccentric (to say the least) original. Not in any 4 star culinary guidebooks. Beloved by New Jersey gourmands of hearty appetite. HG refers to the Belmont Tavern, a very ordinary looking establishment on Bloomfield Avenue in Belleville, NJ ( adjoining Newark's North Wards, Belleville was the fictional home of Uncle Junior in "The Sopranos").
HG doesn't know if things have changed, but during the 80's the restaurant and bar were under different (and not too friendly) proprietorships. You got a bill for your food. You got a separate bill for wine and liquor. The one phone booth was always occupied and it appeared to be utilized solely for gambling purposes. The bartender had operatic pretensions (he was actually quite good) and would burst into loud arias when his mood was right.
The signature dish at the Belmont was "Stretch's Chicken Savoy." This occupies a place in Joisey cuisine similar to the Tour D'Argent's pressed duck in Paris. The ne plus ultra. The Iminimitable. The classic. The chicken pieces were roasted to the point where the skin was crisp and the interior juicy. The sauce was near black in color, redolent of vinegar, garlic, olive oil, anchovies and a melange of spices known only to Stretch, then the chef d'cuisine and owner of the restaurant portion of the Belmont. HG liked to start his meal at Belmont with shrimp or scungili salad, both dressed simply with olive oil, lemon juice, garlic (lots of it) and red pepper flakes. This would be followed by a bowl (a delicate word for the huge vessel) of cavatelli in a fresh ricotta and tomato sauce. Only vegetable on the menu was fried hot peppers (HG liked to augment the chicken with these).
Here's the good news. Stretch is gone but his chicken lives on. The Belmont is still in business and is thriving. Here's an addition from SJ: Not only thriving but appears to be frozen in amber! On a visit 6 months ago, the spot was jam packed with families that SJ could have sworn he had last seen on a visit to the Belmont in 1983. Here's a warning from SJ. All portions are family style and meant to be shared. Go with a raging appetite and be prepared to wait at the bar until a table empties. It may not be chic, but the Belmont Tavern is a serious regional experience that should not be missed. Not only does it burst with local color in terms of clientele but the cuisine is singular and great.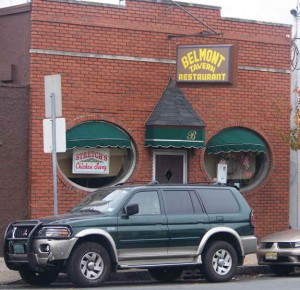 § 3 Responses to Belmont Tavern: A Jersey Jewel"