For many years HG was obsessed by the Chow Mein Sandwich. Permit HG to clarify: A Chow Mein Sandwich is a layer of crisp chow mein noodles, a large glop (heavy on the corn starch) of vegetable chow mein, a squirt of soy sauce. Served on a standard, soft hamburger roll, it is very difficult to eat. The filling has the regrettable habit of rolling down the eater's sleeve. The only places that served this delicacy were Nathan's Famous in Coney Island and Nathan's Famous near Times Square (it had a run of about 10 years). Despite the consumption difficulty HG was mad about the sandwich and made many detours to Nathan's to indulge his passion (ruining many suit sleeves in the process). Nathan's is now franchised beyond recognition and despite existing in every major airport, ONLY the original Coney Island branch still serves the Chow Mein Sandwich. HG has moved to New Mexico.
Distance and time has cured the obsession.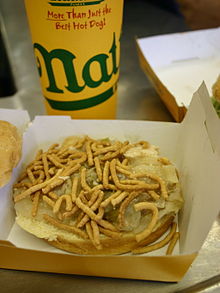 § 4 Responses to Perversion Cured By Absence"