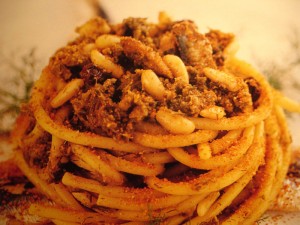 Last night SJ (visiting at HG and BSK's Santa Fe home with his family) produced a large bowl of spaghetti with sardine sauce. It was one of the very best pasta dishes in HG's memory. It deviated from the traditional Sicilian Spaghetti con el Sarde but retained that magic island's ambiance (hopefully, SJ will share his recipe in a forthcoming post).
In any case, it made HG make a mental revisit to Sicily. It is the isle of the most superb ruins of Grecian temples, air fragrant with herbs, sea and mountain vistas and a history of violence, foreign occupation, blood and vengeance. It has been the subject of HG's favorite novel, "The Leopard," by Lampedusa and HG's two favorite films, "The Godfather–Part One and Part Two." It is an island that has been glorified, romanticized, vulgarized; however, HG's knowledge of Italy and Sicily is as thin as capeliini. For real insight into the historical and social realities of Sicily, HG will always turn to his intellectually gifted son-in-law, Profesore/Dottore M. who grew up in Siracusa.
Profesore / Dottore M. was also HG and BSK's incomparable guide to Sicily and to the wonders of the local cuisine. In Palermo, HG tasted a variety of little fried yummies (including spleen) that sing in HG's mind. There was also pasta with a sea urchin sauce. In Siracusa there were fried cuttlefish. In a small town, HG had the definitive Pasta a la Norma (eggplant sauce) and, of course, there was swordfish and tuna cooked in a variety of ways. And, not to be forgotten, the cornucopia of Sicilian sweets and baked goods. In the terrace restaurant of a hotel in Taormina (certainly the town with the loveliest sea views in the world) HG and BSK enjoyed spaghetti with sardine sauce (enhanced with raisins and pignolias evoking Sicily's occupation by Arabs many centuries ago). Awfully good. But, HG must be honest (nepotism being not to blame). SJ's was better.
(Flattery gets one everywhere, says SJ, and so the recipe is divulged. Gather together 1 medium red onion, 4 to 5 cloves of garlic, red pepper flakes, 5 nice plum tomatoes, 2 tablespoons tomato paste, 1/4 cup chicken or vegetable broth, a nice handful of Italian parsley, 2 tablespoons capers, 2 anchovy fillets, a can of (preferably) Portuguese Sardines packed in Olive oil and of course of package of Spaghetti.
Fill a big pasta pot with heavily salted cold water and set to boil. Mince the garlic and red onion and saute in olive oil. Once these soften a bit add some red pepper flakes (to taste) and chop up your anchovies and add them to the pan. Really cook this mixture down so that the onions and garlic carmalize a bit and the anchovies dissolve. Then chop up your plum tomatoes and add them to the pan alongside the tomato paste. Stir everything together and add the chicken broth (if mixture seems too thick add some more broth). Raise heat to a lazy simmer and add the capers and sardines. Add salt and pepper to taste and let simmer for fifteen minutes. Hopefully your pasta water has reached a boil at this point so add your pasta. Cook your pasta until it is a touch underdone (that is a touch before optimal AL DENTE!) and add it to your sauce alongside about 1/2 to a full cup of your pasta water. Raise the heat and keep stirring until your pasta has absorbed some sauce and taste for doneness. When ready add the chopped parsley and serve!)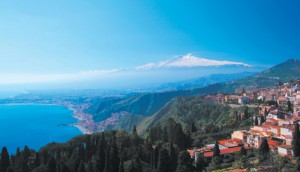 § 3 Responses to Glorious Sicily"