Because of his height, big nose and high forehead, Charles de Gaulle was called by the irreverent French, "La Grande Asperge" — The Great Asparagus. Well, last night HG had some truly great asparagus. Big, fat guys purchased at Whole Foods and labeled European Asparagus. BSK steamed them and served them with olive oil, a bit of melted butter, lemon juice and sea salt. Yum.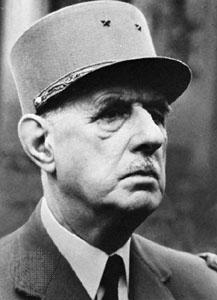 Asparagus doesn't marry well with most wine. HG likes them with Le Ferme Julien Rose if you can find it or a crisp white or even beer. When only skinny asparagus are available HG suggests they be cut into short lengths and stir fried with a bit of garlic and ginger. Fat white asparagus are a European obsession. Veronika H., the German-born pal of HG and BSK, said all work would halt in Germany on the first day these delectables hit the market. HG and BSK first tasted these lush asparagus many decades ago in a long gone restaurant on the Boulevard Saint Germain in Paris. They were wrapped in a linen cloth to keep warm and served with great ceremony by the maître d' who used silver tongs. A big gravy boat of Sauce Mousseline (Hollandaise mixed with whipped cream) accompanied them. Wow! This was followed by rare spring lamb and souffle potatoes. The meal ended with the first wild strawberries of the season. Ah, springtime in Paree when we were young and the exchange rate favored the dollar!!
Babe Ruth had the last word on asparagus. Invited to a classy dinner of blue bloods, the rough diamond of the diamond, was asked by the hostess why he declined the asparagus: Said Babe: "Because they make my pee smell funny."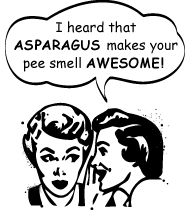 § 3 Responses to Charles de Gaulle…And Other Asparagus Matters"