Grey, slightly misty Paris day. Unpacking (always an annoying chore only matched by equally annoying packing). While BSK went off to buy a hair dryer, HG perched at an outdoor table at his favorite cafe/wine shop Cave des Abbesses, on lively Rue Abbesses. Ah, Montmartre. Before strolling to Cave, HG listened to a trio (two guitars and a bass) jazzing at Place des Abbesses. Django time! At the Cave, HG had six splendid oysters (a bargain 7 Euros) a pichet of excellent Touraine Sauvignon Blanc, dry with only a hint of fruit. The passing parade of lovers, intellectuals, artists, loafers and working folk was free. Further entertainment was provided by a funky jazz trio of trumpet, clarinet and castanets.
Joined by BSK, a shopping expedition provided a roast chicken, roast potatoes, a head of frisee, six perfectly ripe wedges of cheese (St. Marcellin, Reblochon,etc.); an array of wine (inexpensive in Paris). Dinner at home. Early to bed. Lots of art to see tomorrow. Maybe the Mondrian/ de Stijl show at the Beaubourg. You will be informed.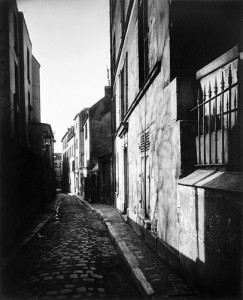 § One Response to Paris. The Same. Maybe Even Better.