Lots and lots of walking today. Started in the Montparnasse neighborhood where HG and BSK walked to the Musee and Atelier Zadkine. Ossip Zadkine was a cubist sculptor and painter whose works mark many Paris public areas (adjacent to Cafe Deux Magots and in the Luxembourg Gardens). HG met Zadkine during one of his U.S. visits in the 1950's. A lovely man. The museum, studio and sculpture garden are small but beautifully organized. Zadkine's work holds up — it is strong Cubism, rhythmic and powerful.
HG was sorry to ever see only one work–a painting– by Zadkine's wife, Valentine Prax. HG was gifted with a beautiful drawing by Prax in 1952. As fresh today as it was almost 60 years ago. Zadkine and Prax are very celebrated in Paris but virtually unknown in the United States. A pity.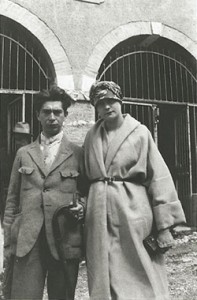 After viewing the Zadkines (and the Prax), HG and BSK strolled around the Luxembourg Gardens where forsythia was in bloom. Watched the boules players, the kids on ponies and the other sights of this most exquisite and civilized park. HG and BSK retraced their first visit to Paris footsteps of 46 years ago along the Boulevard St. Germain to Rue Du Bac. Lots of street music along the way. An exuberant, young (not very good) brass ensemble outside the Luxembourg gate and a very good Dixieland group of oldsters outside the St. Germain church. A cliche: Where did the years go? Back to the loft and a chilled bottle of very good Sancerre. Much red wine, pate de campagne, fresh baguettes await at dinner Chez HG and BSK. Hemingway called Paris "a moveable feast." Surely it is a feast for all of the senses.