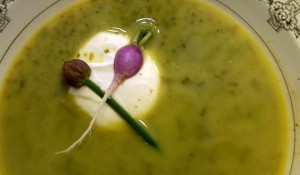 A bowl of ice cold, flavorful soup on a hot summer day. Nothing can be better. HG has enjoyed gazpacho, cucumber soup, carrot soup — all frigid treats. HG remembers with fondness his mother's sweet, sour and bright red beet borscht. Served cold, it softened to pink when tablespoons of thick sour cream were stirred into it. HG's mom also made mouth puckering Schav, a sorrel soup which was always accompanied by a hot boiled potato. HG was never fond of French Vichyssoise. Too much sweet cream. Stultifying rather than refreshing.
This week HG has been experiencing (as New Mexico battles horrible forest fires) the ultimate cold soup — nourishing and soulful. The soup was prepared by HG's Santa Fe friend, Vicki Buckingham, a vegetarian who does exquisite things with the products of the earth. Vicki claims her soup has a Polish origin and HG can discern some East European elements in it. Here's the recipe for what HG call's "Vicki's Miracle Heat Beater": Using a blender or food processor, blend five small tomatoes with a tablespoon of vinegar (cider or rice) plus salt and pepper. When smooth add the pureed tomatoes to a quart of buttermilk and chill in the refrigerator. Serve with bowls of four cooked medium beets (cut into slivers); six finely chopped scallions; a cubed and seeded cucumber; chopped hard boiled eggs; lots of chopped dill. Diners add these ingredients to suit their taste. (HG likes to top it off with a dash of cayenne pepper).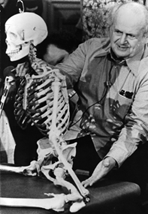 When not making soup, Vicki is a practitioner of the Feldenkrais Method. The Method increases a person's range of movement and flexibility (among other positive results). Vicki worked her Feldenkrais magic on BSK and BSK swears by it. You can learn more about Vicki and Feldenkrais (and soup): victoriabuckingham@gmail.com.