Beautiful and brilliant granddaughters (this is not Grandpa excess and overstatement) Ms. A and Ms. S. are visiting. After a hike among ancient Native American cliff dwellings the young ladies were hungry so HG and BSK took them off to "O" The Eating House in Pojoaque (New Mexico of course!).
Creative salads and thin crust pizza. Salad one: Hand crafted, creamy buratta on top of paper thin slices of pear dressed with lemon oil; topped with roasted hazelnuts. Salad two: A deconstructed Caesar featuring a poached egg and deep fried, breaded anchovies. Salad three: A toasted round of artisan goat cheese atop frisee dressed with an assertive vinaigrette. The pizzas: A conventional mozzarella and tomato made brilliant by the addition of handmade fennel sausage; sublime combination of guanciale (cured pig jowl), roasted eggplant and fried onions and peppers. Civilized dining in The Land of Enchantment.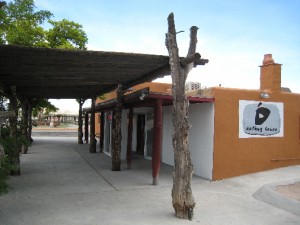 § 2 Responses to Salad Sorcery And Deft Pizzas"